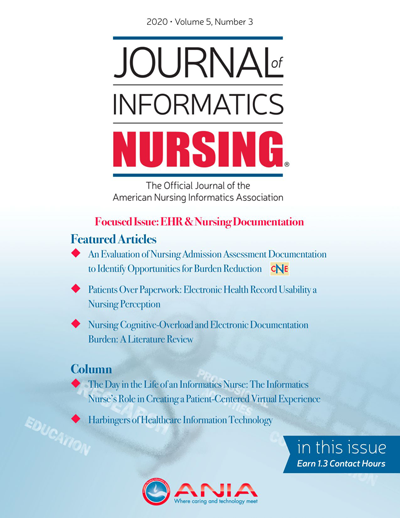 ANIA is proud to reveal a brand new journal, the Journal of Informatics Nursing (JIN). The journal will be published quarterly and shared with members of ANIA as a direct benefit of membership. The first issue, which is free to the public, provides a sample of what's in store for readers. Each issue will offer a continuing nursing education (CNE) activity, regular columns, and a variety of feature articles on various topics impacting nurse informaticists. Delivered in an electronic "Dynamic Edition" format, JIN will allow readers to easily bookmark content, print resources, and share information.
View the Premier Issue of the Journal of Informatics Nursing
Learn More about the Journal / Call for Authors
To ensure you receive the latest, greatest journal for informatics nurses, become an ANIA member today! Nonmembers and institutions/hospitals may also subscribe ($100 and $200, respectively). Receive the most bang for your buck by joining ANIA for the low rate of $79. In addition to other great member benefits, you'll have this cutting-edge resource at your fingertips.