ANIA is proud to announce our new Mentoring Network! The purpose of this addition to our website is to connect our members for professional support and growth. The Mentoring Network can partner you with more experienced informatics professionals who can guide you along your career path, or allow you to share your knowledge and experience with emerging informatics professionals. If you are a student, you can use this feature to search for a preceptor to supervise your practicum project.
In order to take advantage of the Mentoring Network, you must enroll through the ANIA website. Please follow the steps below to complete this process. While you are enrolling, you can also set up your E-list if you have not already done so.
– The ANIA Board of Directors
Set Up Your ANIA Mentoring Network Account
1. Login to your account at www.ania.org
---
2. Click on Community

---
3. Click on The E-list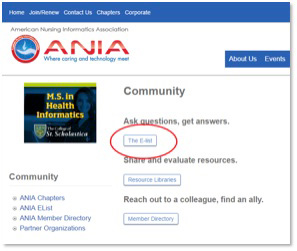 ---
4. Click on Go to the E-List Community Page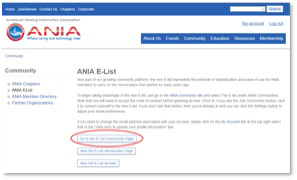 ---
5. Click on the image in the upper right corner of the screen (a gray silhouette)
---
6. Click on Communities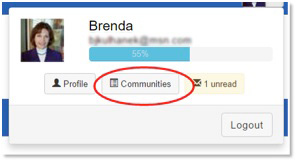 ---
7. Click on My Profile and scroll to the very bottom to set up your status for the mentoring community

---
8. Click on My Account to set up your email preferences for the mentoring community.

Welcome to the ANIA Mentoring Network!
Please contact us with any questions or problems by sending an email to ania@ajj.com or calling 866-552-6404.