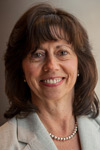 Pitman, NJ — FierceHealthIT has named American Nursing Informatics Association (ANIA) President Patricia Sengstack, DNP, RN-BC, CPHIMS, one of the "10 Influential Women in Health IT in 2014" for her outspoken advocacy in the use of health technology among nurses.
Sengstack was chosen by the publication's readers and joins other women who serve in a wide variety of health IT roles, from government to research. According to an article describing the influencers, "Women continue to play a major role in the evolution of health IT both in the U.S. and around the world."
A respected leader and widely known nursing informatics expert, Sengstack is also the Chief Nursing Informatics Officer (CNIO) for the Bon Secours Health System based in Marriottsville, MD. With her role as ANIA president, she has helped put the specialty on the industry map during her term.
"Patty's intelligence, commitment, humor and positive outlook have led ANIA to another level this year," ANIA Vice-President Charles Boicey, MS, RN-BC, CPHIMS, said. "She's inspired her colleagues on the ANIA Board, our members and other leaders. She deserves this honor and we are proud of her work in promoting nursing informatics."
Since she became ANIA president in April 2013, Sengstack's focus has been on the impact of health care informatics on patient safety. She has also worked diligently to help build a program to improve the evaluation process of IT systems.
The former Deputy CIO and Chief of Clinical Informatics at the National Institutes of Health (NIH) Clinical Center in Bethesda, MD, Sengstack earned her DNP from Vanderbilt University, Nashville, TN, where she still serves as a faculty member teaching nursing informatics. She earned her master's in nursing informatics from the University of Maryland, Baltimore, MD. She currently resides in Damascus, MD.
The FierceHealthIT list, its third annual, also includes a health technology and social media maven and the first female National Coordinator for Health IT. The individuals were chosen because they 'helped guide their organizations to unprecedented health IT heights,' according to the publication.
ANIA is a professional nursing association with over 3,000 members in the U.S. and internationally. For more information about the organization and nursing informatics, visit the ANIA website at www.ania.org.
###
Members of the Media: American Nursing Informatics Association President Patricia Sengstack has been honored by an industry publication for the influence she has had on health care IT. To interview Sengstack or to obtain a photo, please contact Janet D'Alesandro at 856-256-2422; janetd@ajj.com. Thank you for your time and attention.
ANIA is a professional nursing association with over 3,000 members in 50 states and 30 countries. The purpose of ANIA (formerly ANIA-CARING) is to advance the field of nursing informatics through communication, education, research, and professional activities.
You are receiving this press release because you are on the Anthony J. Jannetti, Inc. press release distribution list. If you wish to be removed from future press release e-mailings, please send an e-mail to rosaria@ajj.com.
Release Date:
Monday, September 15, 2014